AFFORDABLE

PRICES

FRIENDLY

& TIDY

WORK

GUARANTEED

LATEST

TECHNOLOGY

​DOES YOUR CLAPHAM HOME OR BUSINESS HAVE A MISERABLE LOOKING WOODEN FLOOR ?
Would you would like to see as sparkling and clean as they look in the home décor magazines?
Is it trapped and forgotten under carpet and old paint? It's the perfect time to bring it surging back to shiny new life by contacting the top wood floor experts in Clapham.
The Clapham floor sanding specialists have no less than 20 solid years of treating the old and exhausted wooden floors of Clapham SW4, providing
homes and businesses across this area with the expertise and experience required
to do real justice to their hidden assets.
We provide a friendly and cost-effective service and use the best in cutting-edge, dust reducing equipment demanded by our customers to keep mess
and inconvenience right down to a minimum.
Our huge range of eco friendly finishes, seals and stains will put the perfect
finishing touch to your freshly resurrected wooden flooring and
completely transform your property.
OUR PLEDGE
There's solid experience and dedication behind our boast of being the top wood floor experts in Clapham. On top of these, we have a real passion for perfection, and on that long journey have become members of numerous industry standard organisations, including:
· The National Wood Flooring Association
· The Guild of Master Craftsmen
​· The Federation of Small Businesses
We are in addition a Junckers Approved Maintenance Contractor, and our £5million of insurance protection makes sure that nothing is left to chance when we tackle your flooring project.
WE TAKE ON ANYTHING AND EVERYTHING
We have such a passion for every aspect of wooden flooring that size really doesn't matter to us, and we'll approach a small strip of your parquet flooring in the hallway with all the expertise and attention to detail as we would bring to a fancy ballroom. Whether it's nothing much more than a sand and polish or a complete renovation project including under floor repairs, the template will be the same.
It starts with a free onsite consultation and ends with our team handing over your free cleaning kit on completion.
Contact us direct to discover more, or continue browsing this site.
Latest News, Recommended Articles & Tips
Why you should choose a hardwood floor for your bedroom
The bedroom is the one room in your home that you can truly make your own. The bedroom is a safe haven, a sanctuary in which to relax and be yourself. Hardwood flooring makes a perfect sense in the bedroom, as it is soft, sensual and can be warm to the touch. Below we share why hardwood flooring is the obvious choice for any bedroom.
The long-lasting option
Hardwood flooring is tough and incredibly long-lasting. If you are considering whether to use carpet or wooden floors, then in terms of longevity, hardwood flooring wins hands down. It's vital that the hardwood floor is prepared, installed and fitted correctly. Hardwood floor sanding is required to achieve your chosen finish, and ideally, you should use a professional floor sanding service.

Benefits of hardwood flooring
There are so many benefits to using hardwood flooring in your bedroom. Hardwood flooring is aesthetically pleasing and has been shown to increase the value of the property. Hardwood flooring is also incredibly versatile and can be refinished numerous times to achieve different colours and finishes. It is also much easier to clean than carpets, and more favourable for those individuals who have a dust allergy.
Helps to achieve that vintage look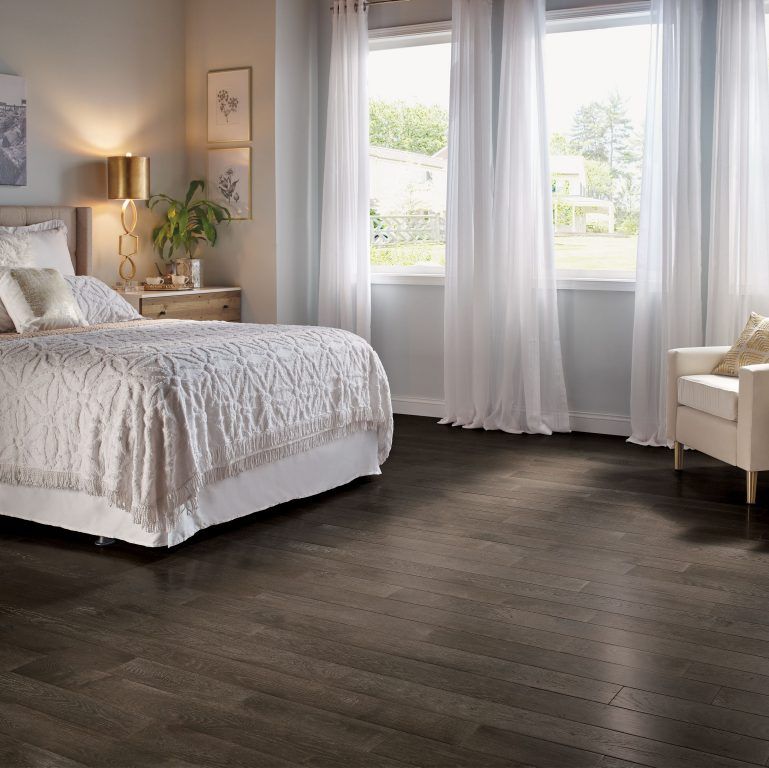 Hardwood flooring is perfect for achieving that vintage look. Wide oak panels are perfect for achieving this look. All you need to do is give them a thorough sanding, preferably with a dust-free floor sanding machine. This will take the wood right back to the grain and will allow you to use a stain of your choosing. There are many floor sanding specialists who can do this job for you.

Achieve that contemporary look
Hardwood flooring can also be used in the bedroom to create that contemporary vibe. This can be easily achieved by sanding and varnishing the wooden floor, and then by applying a high gloss finish in a deep brown or cherry shade. Just remember to use a varnish or lacquer that is specifically designed for hardwood floors. There are many floor sanding and polishing companies who can do this job for you at a reasonable price.

Enjoy your bedroom hardwood floor and remember to make it truly your own.
For Magnificent Wooden Floors Call 020 3151 7973 Now !
BEFORE & AFTER